J/80 Fleet 1
Lake Winnipesaukee is home to one of the original J/80 fleets. The J/80 is a fast, fun, 26-foot sportboat, usually sailed with a crew of 4. (More J/80 information is available from J/Boats and the J/80 Class Association.)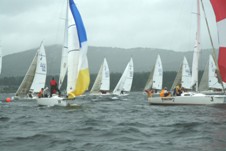 We race every Thursday evening throughout the season. We're an active and growing fleet - many thurdays nights we see about 15 boats on the starting line! With this many boats, there's almost always room for visiting crew - just get in touch with our Fleet Captain and let us know you're looking for a ride!
We maintain several public mailing lists for anyone interested in J80 activities and news - see the LWSA list information page for details.
There is also mixed-fleet, handicapped (PHRF) racing on the Lake - see the Racing on the Lake pages.